Amandeep Murria
PARTNER
Get in touch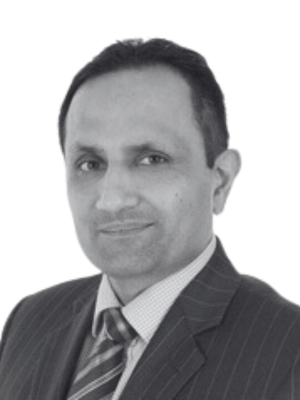 Areas of expertise
Qualifications
Admitted to the Roll of Solicitors, 2000
Amandeep ('Aman') is a Partner in the Criminal and Fraud Litigation Department and is the Head of the Serious Crime Team at Kangs Solicitors.
An exceptional litigator with over two decades of experience, Aman joined the firm in 2011.
Since qualifying as a Solicitor in 2000, Aman has worked exclusively in criminal, fraud and regulatory litigation. He has advised and represented many hundreds of clients nationally in relation to serious, complex and high value and/or high stakes litigation.
He represents both corporate and individual clients in relation to criminal allegations ranging from financial misconduct matters including fraud and money laundering to grave allegations of murder and historic sexual abuse.
Aman's clients include individuals such as company directors, media & sports personalities and professionally qualified persons. He also undertakes advisory work for corporate organisations seeking advice on criminal liability issues.

Financial Crime & Fraud Investigations

Aman is vastly experienced in representing clients in relation to complex financial fraud investigations. The work is usually high-value (multi-million pounds) fraud allegations often with a significant multi-jurisdictional element.
His work includes acting in investigations and prosecutions brought by the following prosecuting authorities:
HMRC – VAT, Tax & Money Laundering
NCA - Serious Fraud & Bribery/Corruption
Insolvency Service
SFO | FCA | BEIS | NATIS | CMA
Trading Standards
Environment Agency
POCA & Restraint Proceedings
Aman has extensive experience advising both corporate organisations and individuals in relation to investigations and proceedings brought under the Proceeds of Crime Act 2002 ('POCA').
Aman provides advice and representation in relation to all aspects of the POCA legislation including:
Confiscation Orders
Applications to vary Confiscation Orders
Cash Seizure & Cash Forfeiture
Money Laundering
Third Party Representation in POCA investigations/proceedings.
Restraint Orders
Freezing Orders
Account Freezing Orders
Account Forfeiture Orders
Civil Recovery Orders
Regulatory Investigations & Prosecutions
Aman acts for both corporate and individual clients in relation to regulatory investigations where criminal liability is a potential issue.
His work includes representing companies, organisations and individual clients in investigations conducted by the following agencies:
Trading Standards
Environment Agency
Insolvency Service (including Director Disqualification)
Health & Safety Executive
Environmental Health
Local Authority investigations into Food Hygiene & Food Safety
ICO

Serious Crime

Aman undertakes the full range of serious criminal litigation work which includes by way of a representative sample the following:
NCA serious crime investigations
Murder & manslaughter prosecutions – see cases listed below
Serious road traffic investigations such as death by dangerous driving
Serious criminal allegations including:

International drug trafficking
Illegal Immigration & people smuggling
Modern Slavery
Firearms
Perverting the course of justice
Sexual Offences including historic allegations
Assault & robbery
Kidnap & blackmail
False imprisonment
Conspiracy to supply drugs
Aman prides himself on his meticulous case preparation and conducts cases from the initial investigation stage to include representation in interviews under caution to court proceedings before the Magistrates' Court, Crown Court and Court of Appeal.

Aman has acquired a stellar reputation for his expertise in defending murder and manslaughter prosecutions. He has successfully conducted numerous murder and manslaughter trials over the last two decades, and is a highly sought-after defence solicitor in this area of work.

Aman has a wealth of experience in criminal and regulatory litigation. He applies his skill, dedication and determination to provide an outstanding service to all clients from the initial stages of an investigation through to court proceedings.

He adopts a fearless approach to representing his clients and protecting their interests. As a result, he has a reputation for building a strong rapport with his clients and earning their trust.